Credits to @韓流ぴあ + (English translation) miyo @lovekimhyunjoong.com
Has everyone seen the 「Hanryu Pia 10/31 Issue」 already (laughs)? On the cover of this issue, currently showing in Korea, the Korean drama version of 『Playful Kiss』 acted by Kim Hyun Joong! We will introduce behind the scene of the interview with the loving smile prince, Kim Hyun Joong.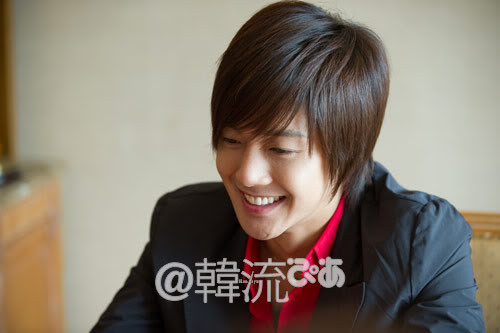 The interview was held on 21st August, right before the 『Boys Over Flowers』Alumni Event. In the midsummer heat from the staff, the moment Kim Hyun Joong appeared in the hotel room, the perspiration instantly stopped (serious!). Wearing a suit, Kim Hyun Joong looking tall and with a small face, really is beautiful…… . As if a prince pop out from a fairy tale (laughs). Answering the interviewer's question with ease. He looks different from the past, the time when surrounded by SS501 members or the time together with the cast of 『Boys Over Flowers』, kind of like matured.
In the interview, he really answered a lot of questions regarding the drama, his future plans etc. He left a deep impression on talking about the work of an actor.
"I thought that instead of saying becoming an actor, it be better to say living as this image, everything of it, isn't it meant as acting also? For example, I am acting as "the actor Kim Hyun Joong" and everyone is acting as "reporters". Isn't it like this? "
During photographing time, as the room was unable to accommodate too many people, all the reporters have to wait at the corridors. After around 10mins, the photographing has ended and Hyun Joong walks out of the room quickly looking over here and before we knew it he greeted politely, "Otsukaresamadeshita! (Good work today)" and rushed heading to the venue of the Alumni event.
Despite busy over the tight schedule, caring about the staff by smiling for a brief moment, the effect was outstanding! Flower boy's smile really has its power. The dazzling smile made the reporters dizzy~.
Such a Kim Hyun Joong interview can be found in the magazine 「Hanryu Pia 10/31 Issue」.
11 pages of big special feature of pictures and interview is a must see! In addition, we have prepared VIP seat as special present for 『"Kim Hyun Joong 1st Premium DVD & PHOTOBOOK "The First Love Story"』 sales event fan meeting on 11th October.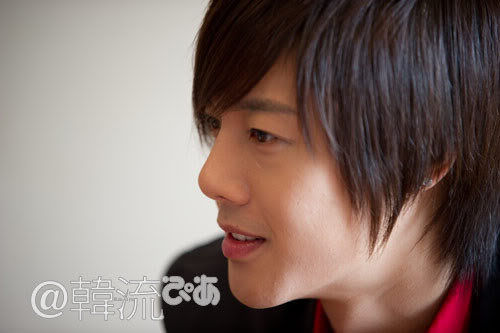 Photographer: Arai Tetsuya
Written by: Aoki Kumiko

---
Permissions in this forum:
You
cannot
reply to topics in this forum