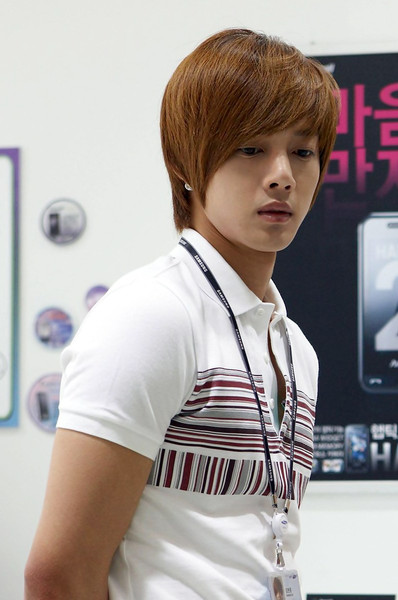 "FLOWER BOY" Kim Hyun Joong is being called "The most beautiful man on earth", cause he looked embarrassed and did not know how to react. He could only smile in reply. He who supports the natural beauty, said if he had to flee because he's an emergency will bring FACESHOP as product support "because I have to keep up appearances I like it. I will earn money with it! "do not forget to care that his appearance was the fact in his life, and in fact he was' FLOWER BOY!"
Kim Hyun Joong who replaced his boss Bae Yong Joon, introduced the newest mask from FACESHOP this morning at a 5 star hotel. promotional tour in Malaysia, he did not forget to promote new products, also mentions that because of his work he always had to wear make-up so that he would use the mask THE FACESHOP for everything and this is the series that he always use bleach in korea and came specifically to introduce it in Malaysia.
Perhaps because of the tight schedule, even though he wore a white dress, but he looks tired. with red eyes dark eye circles, occasional cough due to dry throat not too many smiles during a press conference. only until the time he introduced the product baru he began to show an enchanting smile. and there is a malay female reporter just kept praising him that Hyun Joong is the "most beautiful person on earth". he was surprised by the compliment, and looked embarrassed not know how to behave ..
in korea already winter, very cold, he said upon arrival in Malaysia she was very warm, but he also did not forget to praise how beautiful the snow in Korea. "Malaysia to please all the people skiing in Korea, feel the snow." he is pursuing naturalness, mentioning the definition of natural beuty "keep your personality and how you take that definition of natural beauty."
how he kept his health was "certainly do exercises every morning, keep the mood is always cheerful." she also said she likes to shower because it can make a better mood.
When the fans sing at the airport. Kim Hyun Joong walked through with head lowered.
"FLOWER BOY" kim hyun joong arrived in Malaysia on 3 December, attracted many fans who waited at the airport. When Kim Hyun Joong out of the airport at 18:40 the fans have a lot to be ready. they not only prepare the balloon, they even board Kim Hyun Joong singing to greet him. but when he emerged, he walked through quickly with head down, drive immediately. although she has no interaction with the fans, just by looking through their idol was quite happy and attracting attention.
Simak
Baca secara fonetik
Kamus - Lihat kamus yang lebih detail

---
Permissions in this forum:
You
cannot
reply to topics in this forum