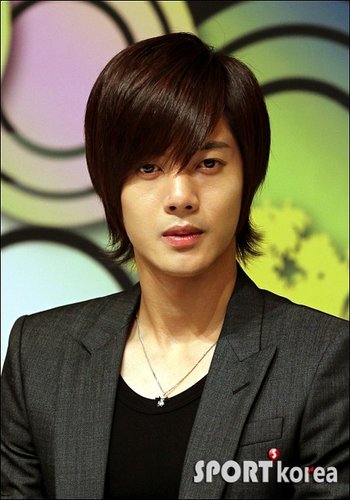 Kim Hyun Joong who stars across in MBC Playful Kiss drama is once again surrounded in acting criticism.
Some netizens felt that Kim Hyun Joong managed to perfectly portray his role as Baek Seung Jo, while some others thought that Kim Hyun Joong made no changes in his acting and felt kinda sad.
On the 1st September at 9.55pm, MBC Playful Kiss was aired. Kim Hyun Joong was playing across as his arrogant and tough character Baek Seung Jo. On this day's episode, Kim Hyun Joong's acting consisted mainy of facial and eye expressions. Because of that, some netizens felt that Kim Hyun Joong seemed to not have made any differences with his Yoon Jihoo character like in Boys over flowers.
In the drama, Baek Seung Jo is a genius of IQ 200 and above and is a genius at all kinds, yet one who lives only for himself and does not care about others around him. For this kind of character, in order to bring out the solidity in him, Kim Hyun Joong chose to show it through his facial and eye expressions more than words.
After the broadcast, audiences left comments on the noticeboard giving ratings for the drama, whilst also, there were both negative and positive feedbacks left regarding Kim Hyun Joong's acting.
A netizen said, "In terms of his manner of talking and expressions, it was totally Baek Seung Jo", showing her anticipation. Whilst another netizen, "Baek Seung Jo is totally~ ill bred/rude. I don't see Jihoo sunbae in anywhere at all. Very~~~handsome~~~" etc.
Negative comments were seen several places too.
A netizen, "I'm totally disappointed in Kim Hyun Joong's acting. He seemed to have been reading his lines just like reading a language book. Because my anticipation was very high, it turned out to be a hugely disappointed Episode 1 for me. I hope for an actor who will develop better in future".
Another netizen, "It's supposed to be a refreshing and bright drama, but why is it so boring all the while? Why didn't the male lead have any lines?", revealing her own thoughts.
In today's episode, it was an episode mainly focusing on introducing each's character. Baek Seung Jo shows his tough and arrogant character while Oh Ha Ni shows her feelings for the person she fancies though she's forever the last in school.
Credits : asiae.co.kr + (English translation) Ode @ ss501ode.blogspot.com
Last edited by nikky32 on Thu Sep 23, 2010 7:24 am; edited 1 time in total (Reason for editing : The tprevious title was so long)

---
Permissions in this forum:
You
cannot
reply to topics in this forum