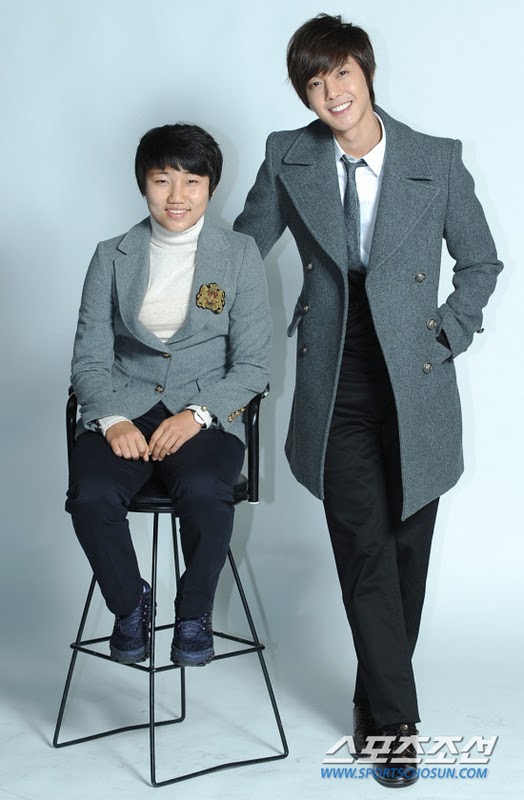 everyone knows that Kim Hyun-joong likes to play football.
This passion makes it met with Yeonjimin, a football athlete who managed to score eight goals in under 17 Women's World Cup last September.
kim hyun joong showed his joy, he said to her "Wah! You play football very well". starting first by greeting her 'dongsaeng', eo Miji smile shyly.
when he has spare time, Kim hyun joong always spend time with playing football. recently he joined the football 'MENG', Formed by JYJ member Jejung, Yoochun and Junsu and 'Flower Boy' KimBum, 'Kim TaeHee's brother' Lee Wan and other super luxury celebrity team. He also made the team named 'Hanwoori' with his brother in his town
Recently Kim HyunJoong donated all proceeds from his MBC TV Drama 'Naughty Kiss' special activity, equivalent to 23 million won worth of football equipment to the Women's Football League, using action to convey his love to football.
in the photos, they are both wearing a gray suit. they look like brother and sister. Yeon Ji Min who are fans of kim hyun joong reveal "More charming in real life."
"Lets meet together to have a drink" towards Kim HyunJoong oppa sudden suggestion Yeo JiMin noded vigorously in response.
Source:
http://sports.chosun.com/news/ntype2.htm?id=201011240100239710014330&ServiceDate=20101123
Chinese Translation: YOYO@Baidu Tieba KHJ
English Translation: PlanetHyun.blogspot.com + XiaoChu @ Quainte501.com

---
Permissions in this forum:
You
cannot
reply to topics in this forum