Kim So Eun Interviews
There have been an upsurge of Kim So Eun Interviews since the finale of A Good Day For The Wind to Blow. Till recent there was little news of Kim So Eun as she was working on her drama that ran for about 9 months.
In the interviews from glancing over there seems to be no mention of any new movie. So I'm not sure if she is doing a soccer movie yet or not. Currently in most of the interviews she seems to be keen on taking a break, since she was on a long schedule for 9 months.
For the past nine months, Kim So-eun has been acting in a KBS daily drama, Fine Windy Day (or Good Day For the Wind to Blow). With that drama coming to a close last week, the 21-year-old actress talks in the following interview about how it felt to bear the burden of her first leading role.
"I felt the pressure," she says. "Now that it's over, it feels like I've just taken off a winter coat. More than disappointment, I feel refreshed." Though being the lead was difficult, when asked if she'd like to take the lead in her next project as well, she promptly answered, "Of course!" with a laugh.
Kim made a splash with her acting in Boys Before Flowers, and has shot to stardom in a relatively short period of time. Since early 2009, she's been contracted for numerous CFs and taken on several dramas, including Iron Empress and the remake of Japanese drama The Man Who Can't Marry.
For a daily drama on KBS, the viewership ratings weren't great. As the lead actress, did that bother you?
"It would be a lie to say I didn't feel any pressure. However, if I got too hung up on it, I didn't think I could immerse myself into the drama properly, so I purposely tried not to let it bother me. Whenever the topic of ratings would come up among the actors, we would say, 'Let's not talk about that' and change the topic. I'm disappointed that they started to rise just as we finished. We joked among ourselves, 'Since the ratings rose, should we get an extension?'"
Note on the ratings: Fine Windy Day started off with a 22% premiere. Though it hit a high of 29.3%, the numbers average out to a rating of 20.5% for the entirety of its run. They came back up slightly for the 22.6% finale.
As you may figure, 20% is a strong showing, so the key phrase in the question is "for a daily drama on KBS." Dailies tend to have very solid ratings, and they usually draw a consistent viewership who tunes in every day. It's much more likely for a daily to hit 30 or 40% ratings than a shorter prime-time miniseries, which has stiff competition and a shorter time to engage audiences. So while I wouldn't call this drama's ratings bad, it's true that they were expected to be higher.
Is there anything you were disappointed with in this drama?
"With time chasing us, I wasn't able to express 100% of what I could. Shooting was so tight that I didn't even have time to change my clothes and with the script coming out pages at a time, the overall quality couldn't help but fall."
Playing a young bride, you weren't able to wear fine clothes or makeup. For your next project, what kind of role do you want to play?
"I haven't fixed upon a particular character or part. I want to try all kinds of roles. I want to do a youth melodrama. I'd really like to try the kind of melodrama acting that tugs at the heart while also being cheery."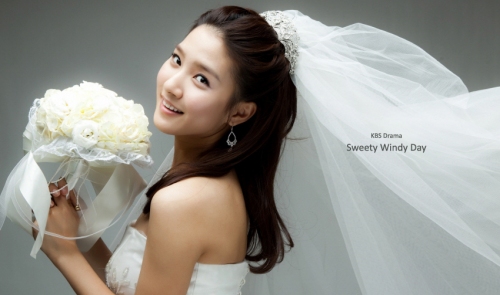 Then what do you think about villain roles or femme fatales?
"I think those might have to come later. I'd like to hang on to my nice, innocent image for a little longer… But I think I have to try a villain at least once. Aren't those roles much more difficult than nice ones? When it's done well, it's very impressive."
You happened to be in a timeslot rivalry with a fellow actor from your management company, Jo Yoon-hee. Goldfish also did well — did it weigh on your mind?
"Hahaha. I'm friendly with Yoon-hee unni and we keep in touch regularly, but with our dramas going up against each other things have become distant. (Joke) It would be a lie to say I didn't think about it. Sensing a rival made me very anxious. Now that my drama's over, I'll have to call her again. Hahaha."
As the interview closed, I asked what she'd like to do now that she has some free time, and she responded, "Travel." With drama shoots, Kim So-eun has never had time to travel on her summer vacation, and said she'd like to fly off somewhere. She said in a voice full of playfulness so that her manager, seated next to her, would hear her say, "I'll have to keep it a secret from oppa [manager] and sneak off secretly."
Credit: Dramabeans & KSE Baidu
Source : Bumsso

sweet ossy

Forum Moderator





Posts

: 218


Reputation

: 0


Join date

: 2010-08-13


Age

: 31


Location

: Jakarta, indonesia




---
Permissions in this forum:
You
cannot
reply to topics in this forum