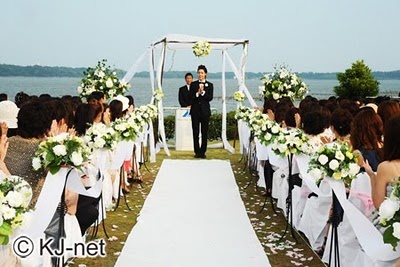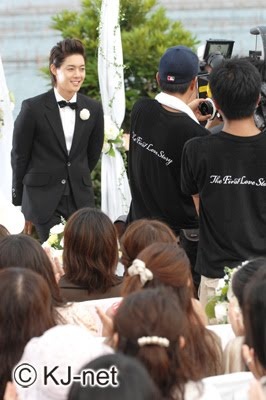 When question about shooting the wedding ceremony scene, this is how Kim Hyun Joong replied :
"I had experienced in wedding ceremony in drama and I had also worn before a tuxedo. I wonder if I would still have the nervous, excited feeling when the day of the real wedding comes? One will get worried when doing too many wedding scenes."
About the outdoor wedding setup at the garden of Magna resort, his thoughts were, "It's strange how such a nice view like Hawaii can be setup in Japan."
The extras and fans all moved to the outdoor wedding venue and the fliming starts.
After the extras are seated, first they filmed the kids scene. 2 children walked down the aisle smiling while scattering the petals.
The local artiste did a wonderful performance under the scorching hot sun.
When Hyun Joong appeared at the arch entrance wearing his tuxedo, sighs can be heard.
Hyun Joong's muttering voice can be heard when getting near him.
Director Che's translator and assistant, Lee Yumi grabbed the microphone and worked hard warming up the atmosphere.
Finally Hyun Joong walked down the aisle with hundreds of balloons flying up.
Blessings with a round of applause. Stepping infront of the platform and made a bow.
President of Magna Resort acted as the matchmaker accepted the bow.
While waiting on standby, Hyun Joong said to the extras nearby, "It's very hot eh.."
Thereafter, he filmed the extras with the camera he had in his hand.
Checking the images that he had just took and said with a mischievous look boasting,"This is how it was taken. It's an art."
After taking several times of the entering scene, taking the next scene together with the little girl.
Hyun Joong asked in Japanese "How old are you?" "What's your name?" etc to the little girl.
His thoughtfulness to the little girl made her loosen up and feeling relaxed.
Cute joongi...
jeongmal saranghae oppa... ^^




Similar topics
---
Permissions in this forum:
You
cannot
reply to topics in this forum