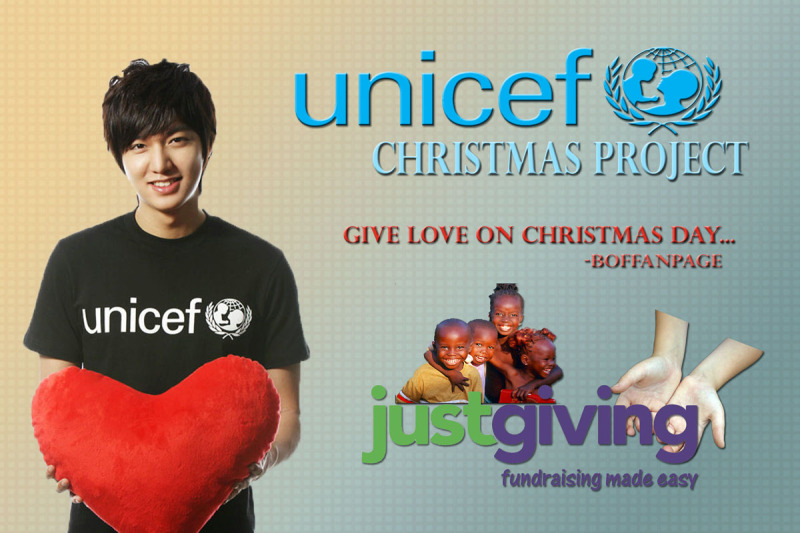 As the song says, "Give LOVE on Christmas Day", why not we give presents to those who are not as blessed as we are?
Fan clubs from all over Korea started donating to UNICEF since Lee Min Ho became the Ambassador of its Love Net "Stop Malaria" Project. Now, Minoz from all over the world created this Christmas project. As the International Boys Over Flowers Fan Page, we would like to tell you that we collaborated with these Minoz to make this project as the greatest gift we could give our very own Lee Min Ho or famously known as our Gu Jun Pyo and of course the charities under him.
We can make Lee Min Ho smile and proud of us at the same time we are helping the world. Make a difference NOW!
"If you are blessed, be a blessing to others…"
On this Christmas Day, you'll be the one of the happiest person because you know that with a little money you give you help a child who is in great need. The amount of money is not a problem, we don't count it, and we treasure it since it's your gift.
Join us now in this big project we are collaborating with.
Donation Details:
You send us your donation thru PayPal and Western Union only. We find these two options as the safest one to send money. We need your money in US dollars, but if you can't send it in USD we'll be the one to have it changed, but as much as possible we hope it could be in USD. We also hope you could donate at least 2-3 USD so we could give a bigger amount but still it's all in your hands how much you want to.
For more details such as our PayPal account and to which your Western Union Money Transfer will be sent just hit us a message on our email:
boffanpage@yahoo.com
Let's give our best on this project BOF lover! Good day and thank you! Help us promote this so we could collect more.
source : boffanpage.spruz.com
I hope you're all here can help Lee Min Ho to collect fund then it will be given to unlucky children in this world. So wanna help then ? ^^


Similar topics
---
Permissions in this forum:
You
cannot
reply to topics in this forum